React Native Enhancements
Using React Native to Deliver Smart Feature Enhancements to the Three Million DPD App Users
Background
DPD is one of the United Kingdom's leading time-critical parcel delivery companies for both domestic and international parcels. Handling more than one million parcels daily, DPD helps its customers rapidly ship anything from clothes to electronics to business supplies—all with a keen eye on exceptional customer experience. To stay ahead of competitors and constantly innovate, DPD invests in modern customer service technology, including its popular mobile app, YourDPD. The company's focus on a premium customer experience is fundamental to DPD's success.
Challenge
Conscious of the increased popularity of its consumer YourDPD app, and the ability for users to get an instant reply by chatting with a DPD advisor about their parcel delivery, DPD wanted to further enhance the customer experience. Yet the company faced a massive challenge when it came to customer support. During peak periods DPD advisors had to manage large spikes in inquiries and provide timely replies to customers. Furthermore, when the call center was closed it wasn't possible for customers to speak to an advisor about their parcels. DPD's commitment to growing its strong brand reputation meant the organization was willing to enact change based on customer feedback. With more than one million monthly active users on YourDPD across multiple device types, the company faced a challenge providing new features into their existing app. To increase the usability of its in-app chat feature, DPD partnered with Formidable to substantially improve the chat technology of the app by rapidly building new UI features and screens in React Native.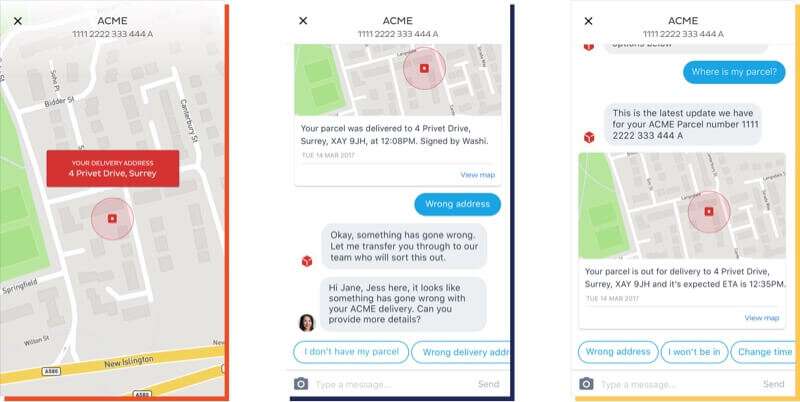 Solution
The best way to handle the most common customer service issues is through a rich text-based conversational experience—a chatbot—built right inside the YourDPD app. The challenge was to build a chatbot that could quickly detect whether a customer was simply asking for parcel status or was trying to communicate something more complex. The latter would always lead to the customer being transparently connected in the chat flow with an advisor.
DPD selected Formidable as its React Native partner of choice to build its in-app chat user interface with custom parts, rich media, and a new UX that integrates into Google's Dialogflow chatbot offering. When customers wanted to ask questions, they would first use DPD's chatbot. This bot not only minimizes the wait time for help, it also provides customers with the confidence they need when they simply want to know whether their parcel is on time or delayed.
The in-app chat screen itself was implemented in React Native and was embedded into the existing app. This enabled Formidable and DPD to quickly iterate and ship a stable feature that feels just as modern and responsive as the rest of the app. The screen's complexity is completely isolated from the native app itself, and communicates asynchronously with the existing native app business logic. These enriched and interactive React Native UIs also provide more detailed status information, including maps of where the driver is headed.
Formidable also partnered with DPD to develop the DesignSpace community within the YourDPD app, which is a forum for collecting feedback, listening to customers' suggestions, and gathering insights via polls. This was also tackled with React Native and has resulted in an entire "sub-experience," without disrupting the core experience of the parcel tracking features within the app.
Results
DPD swiftly beefed up its customer service game, rolling out quick and easy online support through the YourDPD parcel tracking app and its popular in-app chat feature. Using React Native, DPD created a conversational experience able to answer the most common queries that account for up to 70% of all support contacts. As of August, 2018, 41% of requests are now resolved directly with the chatbot. Formidable and DPD's collaboration enabled rapid project implementation, realizing the business benefits of using a modern development framework to speed-up development and implementation times.
Benefits
By selecting React Native for feature and functionality improvements, the necessary code could be written once and then deployed within all of DPD's existing native mobile applications on Android and iOS. This resulted in a significant reduction in development time, allowing DPD to roll out effective support enhancements to all app users while also substantially reducing the number of support calls that require a live advisor.
Conclusion
By partnering with Formidable's React and React Native experts, DPD quickly amplified its existing consumer applications with cutting-edge customer service features, while preserving and serving its current active user base in an impactful and measurable way.
Work With Us
We partner with our clients to build all manner of digital products. Wherever you are in your product lifecycle, from concept to launch, our team of design and engineering experts will ensure you meet your web or mobile app's goals.