Meet Emma Brillhart
November 14, 2019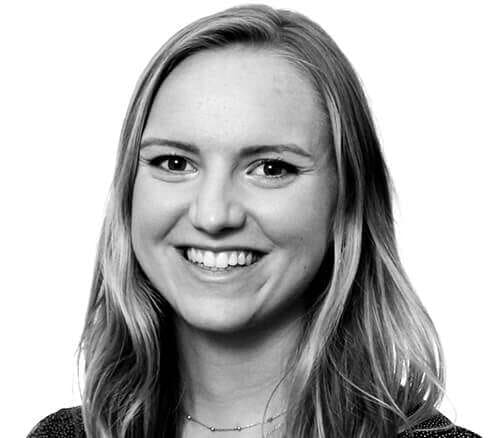 Emma Brillhart
We'd like to introduce you to Emma Brillhart. Emma is a senior developer, engineering manager, experienced speaker, co-lead of our newest office in Phoenix, Arizona, and now leads our DevRel program at Formidable.
Emma Brillhart and her Dog, Leo
What brought you to Formidable?
I stumbled across Formidable essentially by accident when I was looking for a dev job back in 2016—one of my classmates from my General Assembly coding bootcamp mentioned that the company he worked for had been nominated for an Awwward for a website they'd recently redesigned, which just happened to be Formidable's. I realized it checked all of my boxes for what I was looking for in my next role, and it immediately moved to the top of my ideal companies list. I submitted my application and had an offer about two weeks later. An extremely happy accident!
What are you most excited about now that you are here at Formidable?
After three and a half years here, it's been incredible how many different experiences I've been able to have. Part of that is the nature of consulting work, but I love how intentional Formidable is about making sure folks get to switch projects at least once every year if they're interested in doing so. I feel like I've learned so much more than I ever would have thought possible since I started, thanks to our culture of learning and emphasis on professional development. Working to build our presence in Phoenix has also been such a cool opportunity and massive learning experience, one that I think would have been super hard to come by at many companies.
What are you currently doing to "level up" your skills?
Lots of reading, especially on management and developer relations. One of my favorite online resources is the SoftwareLeadWeekly newsletter from Oren Ellenbogen, and my favorite books so far are The Manager's Path by Camille Fournier and Resilient Management by Lara Hogan. I'm also continuing to work on how I handle context switching as I move from coding to management tasks throughout the day. I've absolutely had to re-tool some of my organizational and time management strategies, but it's been kind of a fun testing out different strategies and seeing how drastically some of them help. Time blocking on my calendar is a game-changer.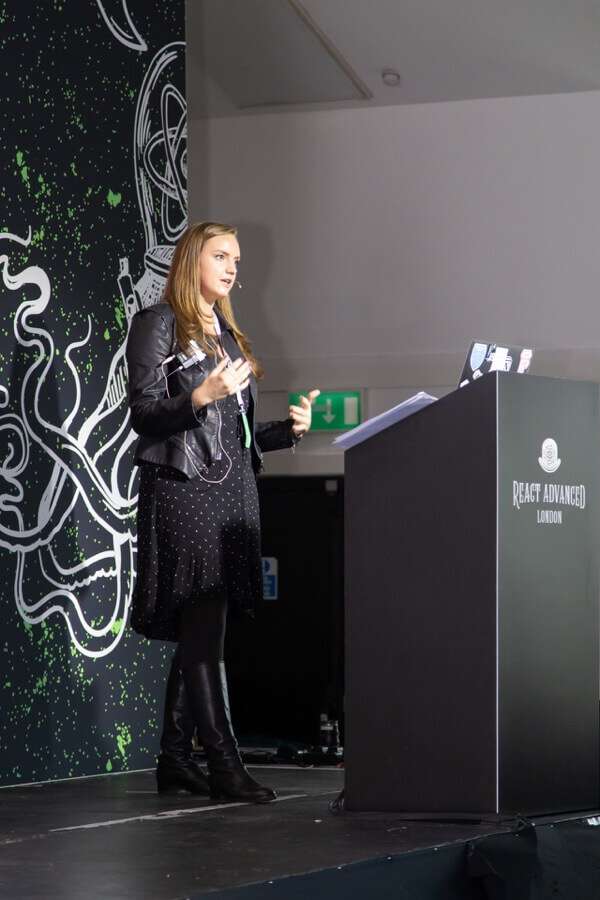 Emma Brillhart speaking at React Advanced London 2019 - Image courtesy of GitNation
What's your favorite part about working at Formidable? Maybe something people on the outside wouldn't know?
How supportive everyone is, hands down. I think it's one of our biggest strengths as a company and something that allows us to be as effective as we are for our clients. It's what allows us to help employees at the beginning of their development level up without feeling intimidated. It makes sharing knowledge bases between different folks at the company much easier since you know you won't be judged for asking a question—we can't all know everything! It means that I can come to work every day and not worry about my interactions with my coworkers because there's no animosity and everyone genuinely wants everyone else to succeed and do well. I could imagine an alternate universe in which our line of work created a competitive internal culture, and it's fantastic that our culture is the absolute opposite of that.
Who or what inspires you and why?
I'm constantly inspired by everyone at Formidable in so many different ways. There are so many different interests and skillsets represented here, and every day I learn a cool new thing about one of my co-workers, or get to have a really fulfilling interaction. The talent and empathy in this place warm my heart.